I am back from outer space!!! Just kidding. I know you've missed me and I missed you all too :D I know most of our avid readers are looking forward for each post here in Space of Reality. Sorry for not posting articles in a daily basis. Honestly I am mentally blanked right now to choose a topic to talk about, so instead I come up with a post to share an award to our readers. I have been choosing a topic on my list for hours now but I can't choose one. Maybe because I am a bit hooked up on my other blog. I am in the process of bringing back its Pagerank because Google slapped it back to PR0, just like this blog too :( That made me a little frustrated so I was very busy figuring out how that happened. Until now, I haven't figured out yet.

Back to the topic... Space of Reality just received a cool award coming from a very great friend named Bluedreamer. This blog was recently awarded as the Top 1 Hottest Blog of the month. Thanks to all my blogging friends who believed and nominated Space of Reality. With that - as a sign of my gratitude - I want to share this Top 1 Hottest Award to our loyal readers and commentators. If you regularly visit and read this blog, then accept the award below. Take it as a gift from me in return for your loyalty :D Feel free to post it in your blog and let your readers know. I know your blogs are hot too in their own special way Hope it's okay with you Blue (wink)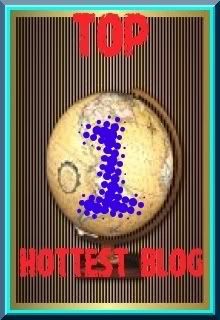 I want to specifically give this award to the following who - thru thick and thin - remain loyal in visiting, reading, and commenting Space of Reality. Thanks to Gypsy, Farah, Jen, Rose, Sweetipie, Felinesopher, Coolingstar, BluecrystalDude, Skip, Benjamin,


***By the way, I hold a contest in my other blog. For those of you who are fond of contests, feel free to participate. Everyone is welcome. I am giving $10 each for the two winners. Check it out here. This is just a summary of this post, go here to read the full article...